Sounds Great Event DJ/MC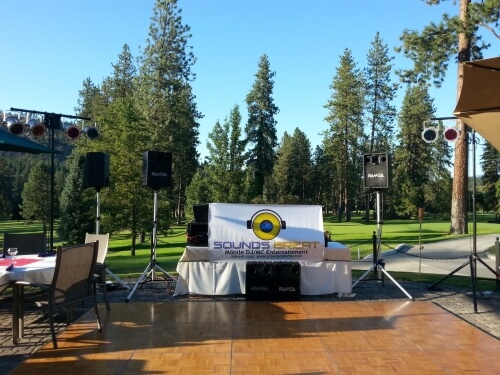 Sounds Great Event DJ/MC service, has been providing great sound and music for it's clients for over 30 years. I am a professional event disk jockey and MC. I have been providing excellent service for my clients for over 30 years. I enjoy and take great pride in my work and in my ability to work out the details with my clients, to give them the wonderful experience they're looking for at their event. 
Testimonials
Doug Ratelle
Scott was very accommodating and easy to work with arranging our music for a large event. He was professional in every way. Then during the event, he went above and beyond expectations and added a tremendous amount of expertise and graciousness to our guests. I was completely impressed.
Pink Lagoon
Scott was amazing for our company BBQ. Can't wait to have him for our next event. Don't hesitate, just book him. Worth every penny
Zachary Plenert
We hired Scott Hough/Sounds Great Mobile DJ to DJ our wedding in September of 2019. Having no experience in wedding/event planning, I started my search for a DJ by Google searching 'CDA Idaho dj'. I reached out to several of the businesses that this search returned, and Scott was quick to respond to each of my inquiries which was really helpful. I explained how clueless I was about everything in our first chat, and Scott made everything very easy from there. We ended up having non-traditional music for our wedding, but Scott did an excellent job of still keeping the playlist appropriate for all ages. All in all I'm very happy with our decision to use Scott at Sounds Great Mobile DJ. He was very professional, easy to work with, and provided the perfect playlist for our special day.
ELM
What an amazing experience!!! Scott is a very talented DJ, entertainer, and dancer. He is such a pleasant and fun person to have around. Thank you for your exceptional service. (If you are fortunate enough to have Scott at your event, ask him to dance early on! Very entertaining!!)
Julie Everts
We ended up having to plan a smaller wedding for my daughter due to the COVID-19 pandemic. I reached out to Scott at Sounds Great Mobile DJ. He responded right away and was so easy to work with. He got in touch with my daughter and her fiancé and kept in touch with them and their plans. He showed up on time and got set up quickly. We had a very small wedding (less than 25 people), and he did an awesome job with music choice and kept things going all night. Little did we know he had quite the dance moves himself! He was very entertaining and had the crowd going all night! Would definitely recommend Scott for your DJ needs!
Abe Man
Hey Scott thank you for hosting our wedding. You were very professional and punctual. Your prices were fair. Also, you were fun to work with and made our specical day spectacular! Thank you and I wish nothing but good things for you.
Jennifer Tracy
Professionalism, Quality, Responsiveness, Value.
Scott was a gift to our special day . He helped make our day care free . He was so interactive and fun. And everything went seem less . We booked him with 3 weeks notice , Love his music choices as well. I would recommend him for anyone's wedding or special event .
Lorien Cord
We had Scott Hough as our DJ for our family reunion and it could not have been more fun! He played a wide variety of music so that our grandparents down to our toddlers got up and danced. He also kept our events and awards ceremony running on time with funny announcements. I would highly recommend Sounds great for any event. We had a wonderful time, our family is still talking about it.
Arwen Beerman
Sounds Great DJ'd our wedding reception and did an amazing job! Scott plays great music, kept things moving, and has an upbeat personality that got everyone out on the dance floor. The party went late into the next morning because people were still dancing and partying. I would highly recommend Scott at Sounds Great!
Brooks Laich
Scott was a big part of our wedding weekend, DJ'ing on our beach as we hosted roughly 150 guests for a day of fun in the sun. Big thank you Scott, you made our day!
Gayle Holiday Inn
Scott Hough Helped us make our Holiday Inn employee party a great success. We appreciate his thoughtfulness
Lara and Kurt
Scott Hough made our wedding reception "unforgettable…"
He did an outstanding job and we appropriate his professionalism.